june 2016 | by linda repplinger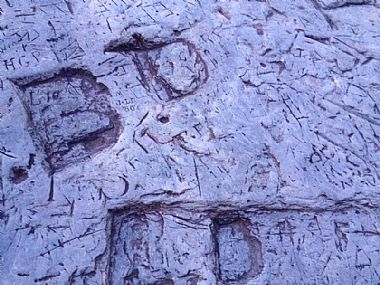 I just returned from attending a workshop at the National Park Service headquarters in Harpers Ferry, West Virginia, for three national firms (of which Sea Reach is one) that recently earned an indefinite delivery/indefinite quantity contract to create wayside exhibits in national parks and historic sites.
The trip was abundant with charming experiences. The narrow roads of Harpers Ferry wind down steep hillsides and are closely lined with tall rustic buildings, dating back to the early 1800s. We stayed in an old stone inn, tucked into a nook in the valley's rocky edge. The next day started with a walk up the Appalachian Trail to Jefferson's Rock to watch the sun rise over the confluence of the Shenandoah and Potomac Rivers—the scent of damp stone and honeysuckle vines mingled with the call of cardinals. As the sun rose, it highlighted individual trees along the dark sides of the valley. Thomas Jefferson wrote of this view:
"The passage of the Patowmac [Potomac] through the Blue Ridge is perhaps one of the most stupendous scenes in Nature. You stand on a very high point of land. On your right comes up the Shenandoah, having ranged along the foot of the mountain a hundred miles to seek a vent. On your left approaches the Potomac [Potomac] in quest of a passage also. In the moment of their junction they rush together against the mountain, rend it asunder and pass off to the sea.… This scene is worth a voyage across the Atlantic."
Jefferson's rock was smattered with the names of many others who also felt compelled to commemorate their presence here.
With a nod to the design department at Harpers Ferry, who emphasized honing the interpretation of waysides down to the simplicity, intensity, and direct expression of a subject, I sum up this experience with a haiku.
confluence of time
many feet have traveled through
some have just begun