august 2016 | by cory schott | show project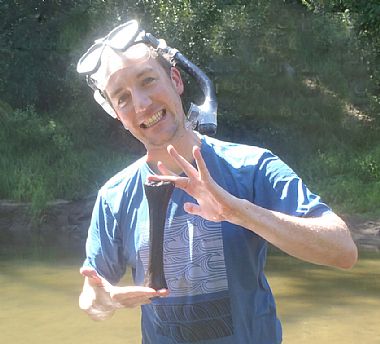 It's the hottest day of the year, but I'm shivering. I've just emerged from the Yamhill River, wet and muddy. As I stand in the sun trying to warm up, I spot two bleached ribs from a deer slowly dissolving in the slightly alkaline water. I was told they would be there. However, as my eyes scan the 3 inches of water I see a familiar shape. It's also a bone, sort of like the shape the makers of dog treats try to make their products, but it's one that is thousands of years old.
We get to meet all sorts of interesting people in the course of our work. For over a decade, Sea Reach has worked with the City of Tualatin, Oregon to plan, design, and fabricate exhibits that interpret the area's Ice Age past. During this time we've teamed up with a number of experts to ensure that our materials incorporate the latest research and are historically and scientifically accurate.
One such expert that we've relied upon is Mike Full, Willamette Valley Pleistocene Project Founder. When our most recent project (Tualatin ArtWalk Extension) wrapped up, Mike graciously offered to take Linda (our senior designer) and myself on a fossil-hunting expedition along the Yamhill River.
It was there—only a few miles from my house—that I found a metacarpal of a Bison antiquus calf. The bison antiquus, the ancestor of the bison, was massive, weighing around 3500 pounds when fully grown.
We found several other fossils that day, including ivory, part of a mastodon or mammoth jaw, and a piece of a skull (not sure of what yet!). Each piece we found became part of the Willamette Valley Pleistocene Project's collection. GPS coordinates, extensive photo documentation of the fossil in situ, and other metadata was collected before we took it out. When the fossils are stabilized, Mike and his team will follow-up the field identification with a more thorough evaluation.
It was an experience of a lifetime and I know both Linda and I are excited to try it again!