march 2016 | by susan jurasz | show project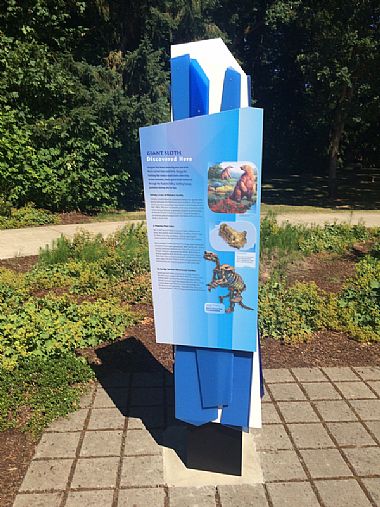 We take for granted the trails and greenspaces that either exist or are being created in our neighborhoods, and for many of them, perhaps all of them, we owe a huge thanks to the people who had the foresight to begin planning them — ten, twenty, thirty years ago.
The Tualatin Greenway in Tualatin, Oregon just had its grand opening. It's one more link in a chain of regional trails… but this trail segment offers a trail experience that stands out. For a section of this trail, users step back in time to walk across footprints of prehistoric megafauna—giant sloth and mastodon—and see fossils of giant salmon or saber-tooth tigers. You can even touch erratics that traveled hundreds of miles, carried by the catastrophic Missoula floods (evidence of the Ice Age). The concrete path is embedded with granite bands marking some of the land-shaping events of the valley over the past 20,000 years.