october 2015 | by peter reedijk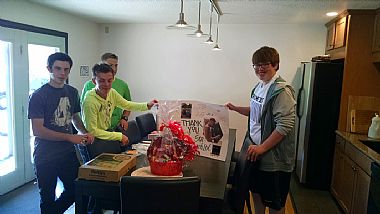 Yesterday, students from Sheridan's Japanese School presented Sea Reach with a card, a box of doughnuts, and an overflowing basket of Japanese candy as a thank you to our team—in particular one of of fabricators, Chino for helping them outfit the school with proper lockers.
Sea Reach donated the metal plating for the sides and backs of the lockers while Chino measured and cut the plates to size. He then delivered the materials so that they could be painted and riveted to an existing structure.
The candy was approached with some trepidation, owing to some unique packaging, but was gone within 24 hours.