january 2015 | by melissa boettcher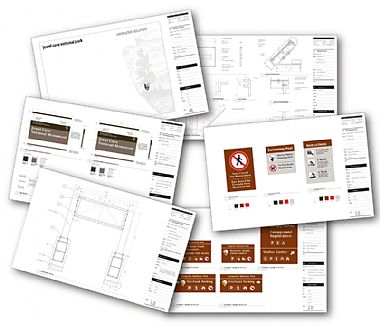 Over the last few months, we have been taking design intent packages for various National Park Service sites and turning them into fabrication-ready documents. While that may sound rather straightforward, in reality the process can be quite complex. Designers often pick the wrong types of materials for the application, create overly complex designs, pick costly options, or even design components that defy physics! So, we have to try to interpret the design intent and then fit it into reality.
Particular designs can also present safety issues, so we regularly redesign to mitigate any potentially dangerous outcome. One design had a brochure box with a lid that could snap back into place a little too quickly, so we added some gas shocks to keep fingers safe.
Our submitted solutions and drawings are easy to read, but also help clients understand what our intentions are for changes and solutions. These are just a few tasks an industrial designer goes through to make an object that is friendly for the user and easy to fabricate. This process blends equal parts experience, research, and a close reading of the design intent so that an idea becomes reality.