DIRTY LAUNDRY: USING THE SCANDALOUS
february 2015 | by cory schott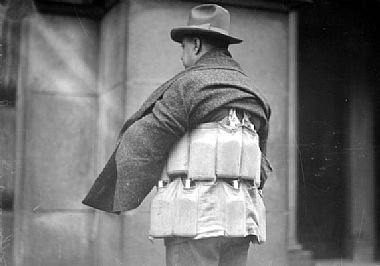 I like to use anecdotes and personal vignettes to introduce interpretive themes. It makes unfamiliar or difficult subjects or concepts relatable on a personable level. If the topics are salacious in nature…all the better! The scandal serves to entice the reader and, if crafted carefully, gets them engaged in a topic that's larger and more important.
It's a fine line to walk when using these types of stories meant for public consumption. An interpretive panel on gang violence or prostitution from 10 years ago might hit a raw nerve, yet one on prohibition bootleggers (also violent) or occupations for women in mining camps in the 19th century (a census of a 1880s mining camp near the Comstock mine in Nevada, found 80 prostitutes) would be OK.
Ultimately, trying to figure out which scandalous topics are palatable is a bit of a guessing game. It's usually a matter of how long ago some of these events took place and reminds me of the expression "comedy = tragedy + time." Generally speaking, that means two generations. It seems that World War II is often the arbitrary cutoff for writing about uncomfortable or unseemly topics, especially on interpretive panels, which are often erected to put a place in a positive light.
However, I'm always pushing our clients—and fellow historians—to push that date forward. It's time to reclaim the recent past, warts and all. By doing so, then perhaps we can get at some real "meaty" topics that move people and make them think.