october 2014 | by susan jurasz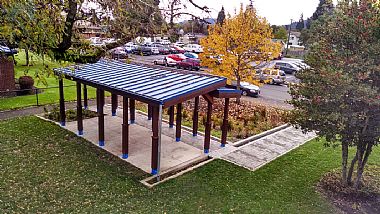 We met with City of Springfield and Springfield Utility District to develop exhibits for a demonstration rain garden. The site was designed with the help of an architecture class, and it bears the aesthetic qualities of thoughtful design.
Rain gardens are becoming a more and more common topic for us to interpret but this one is relevant in a way that Springfeild residents can appreciate. The public water system comprises a series of ground water wells. The wellheads are all over town. The time it takes for a drop of water to travel from the ground's surface to the underground reservoir is less than a year. This time is tracked by pollutants that sometimes show up when a business or individual is not careful. Very serious consideration is paid to the "time of travel" and depending on where you live or have a business in relation to a wellhead, there are requirements to follow to preserve the pure water. This fascinated me; so often we describe the importance of pervious pavers, retention gardens, bioswales and rain gardens, but here is a town where residents require this knowledge to insure their quality of life.