june 2017 | by cory schott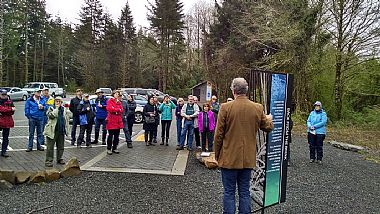 An estuary is a natural meeting place. Here the sea and freshwater mix at the mouth of a river and plants and animals adapt to the daily rhythm of the tides. And on a rainy day in April, the Sea Reach team met with stakeholders at the Salmon River Estuary near Cascade Head on the lush and dynamic Oregon coast. After decades of restoration efforts, the Salmon Drift Creek Watershed Council is ready to celebrate and showoff their work with an interpretive site that explains the importance of the Salmon River Estuary.
The site presents some challenges: it is narrow, the trail is short, and it feels more like a rest stop, with restrooms and picnic tables taking the center stage, than it does an important vantage onto an ecologically rich, newly restored natural system. So Sea Reach got to work defining and designing a "visitor experience" that we hope inspires the awe and appreciation that we have developed for this site since we began the project.
After several weeks of work, Sea Reach and the Watershed Council held a "public meeting" to show off the conceptual design. More than 30 people showed up at the site. It was a typical, soggy morning on the coast. Dressed in raingear and hoping for the best, Sea Reach presented the design with a series of full-size cardboard mock-ups to give the public and stakeholders a preview of the new exhibits.