june 2014 | by cory schott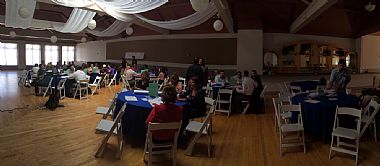 Poor lighting. Bad carpeting. Inattentive attendees. A few people that just want to hear their own voice - regardless of the topic at hand. These are the mental images most people conjure up when they think about a public forum.
Recently Sea Reach was invited to give two public presentations about the preliminary designs for Boise's wayfinding system. These meetings, it turned out, shattered our illusions of what a public meeting can be and what it can achieve when concerned people come together.
First, the non-traditional format allowed for greater feedback on the look and feel of the system. After a quick recap and comments about the science of wayfinding, prearranged groups dove into the task of providing written feedback about all aspects of the designs - from materials and color to typography and maps. These comments will help guide the final design. Team leaders at each table helped to keep groups on task and moving ahead. Sea Reach's wayfinding team moved about to answer any questions.
Second, the setting of the public meeting helped to lighten the mood while at the same time afforded plenty of opportunity to interact with the public. Held at the historic Rose Room in downtown Boise, natural light and enough room made everyone feel comfortable. Food and drinks ensured that everyone remained happy and energetic.
Finally, the real reason for the success of these meetings were the people who came out and thoughtfully contributed. We were constantly impressed by how excited the people of Boise were about this system and grateful for their comments. "We really do care...," was a phrase overheard more than once.
Read more in the Boise Weekly.