august 2013 | by susan jurasz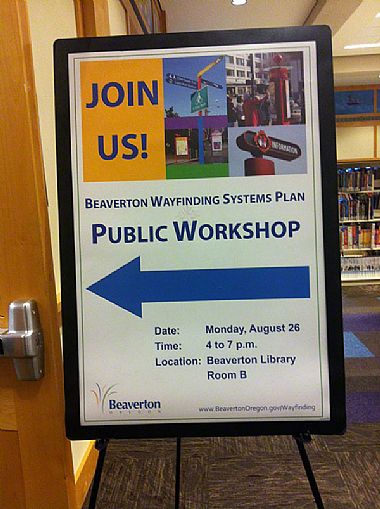 Typically projects with cities require opportunities for the general public to express interest or concerns for the location or design of a project that will be part of a public space. For wayfinding projects the list of stakeholders and public outreach can be extensive. Public meetings can be highly productive or a real bust and the difference is all in the preparation, knowing your audience, and creating a platform where everyone speaks. For the Beaveton Downtown Wayfinding open house, the city sent out the invitations and Sea Reach designed the format and conducted the meeting. It was important to us to hear all voices equally, so we set up a series of seven stations. Each manned by Sea Reach staff.
As people entered the room, I greeted each person, introduced the project and the format, gave them a page of colored sticky dots (for voting) and sent them on the circuit. At each station, they got a 2-3 minute introduction to something pertaining to the project that we wished to poll the public - color, nomenclature, destinations, best walking routes, best bike routes, where do you park, how do you describe the downtown in one or two adjectives, what do you consider the perimeter of the Downtown? Every person that entered the room cast a vote, drew a line or circle on a map, or wrote down what was important to them about the Downtown. The circuit kept people moving - as they finished with one set of decisions they were on to the next. Each "station master" collected and consolidated the information into useful information that shaped the design phase of the project. At the second open house, people who returned could see the results of their efforts and how it influenced the project.