UNUSUAL SUBSTRATE AND EXCEPTIONAL CHALLENGES
december 2013 | by susan jurasz | show project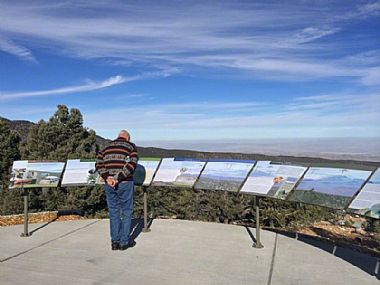 At Desert View, visitors don't just look over any desert. They look out over THE desert. The desert which witnessed and endured the testing of atomic weaponry. These moments changed the history of our country and brought the entire world into a new "technological" era - the atomic age.
The success or failure of these exhibits depended as much upon adapting to the landscape as it did the interpretation. The walkway from parking lot to final presentation cul-de-sac took advantage of a striking change in elevation. This in turn generated a series of hairpin turns on the walkway. Signage found placement en-route to the two cul-de-sac arenas that were created for the "longer story" interpretive presentations.
The viewing circles at the cul-de-sacs presented an interesting design and assembly challenge, one that we came to see as a "curve on a curve on a slope." The shape of the panels imitated the arc of the circular pad. The angle of each sign had to be placed so that each one was shaped like a flower petal that is tapered, having a wider top than base. The fact that the cement pad itself requires a slope allowing for drainage created a difficult challenge during installation but ultimately provided the perfect setup to juxtapose the natural beauty of the scenery and created a stunning spot to reflect on our national past.