april 2018 | by peter reedijk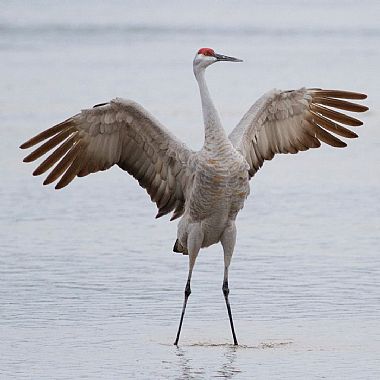 As flock after flock of sandhill cranes pass over our car, our necks strain from swiveling. It is dusk and they are on their way to the Platte River. The next day, we are informed that this year, this area has counted over 600,000 sandhills…and one whooping crane! The whooping crane, one of roughly 600 left on this planet, is the tallest bird in North America (a fact I later learned on Wikipedia). As soon as it was sighted, everyone in the know raced to see this magnificent bird. We are a day too late.
Sea Reach was invited to present at the 2018 Ecotourism Symposium in Kearney, Nebraska. The symposium, which focused on the role of nature-based tourism on the Great Plains, combined three conferences into one: the Nebraska Tourism Commission's annual Agri/Ecotourism Workshop, the Heartland Scenic Byways Annual Conference, and the University of Nebraska's Center for Great Plains Studies' annual symposium.
We were captivated by the inspirational speaker Dean Jacobs at lunch, and enjoyed learning from an hour-long presentation by trailblazer Luke Jordan. Both men are explorers: Dean travels the world and breaks down stereotypes and Luke trudged 2,200 miles from Texas to Canada to forge the first on-the-ground route for the Great Plains Trail. The take-away message from both: leave fear behind and follow your dreams.